The Lehigh Valley Tea Party needs all Regular (paid) and Associate (non-paid) members to place door hangers on certain doors in their neighborhoods to help get the word out that in spite of some recent election losses, we simply can't give up.  If we give up, our political opponents automatically win.
Win, lose or draw, we must continue the fight and Never Give Up.
To that end we need you to pick up your pack of door hangers shown below at our Sept 7th meeting and place them on doors of specific addresses that we provide, to encourage those voters. (Please don't put them at addresses that we don't give you. We don't want to encourage the wrong people.)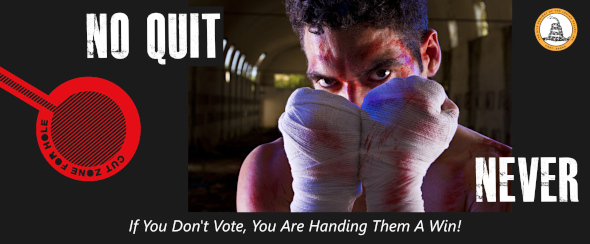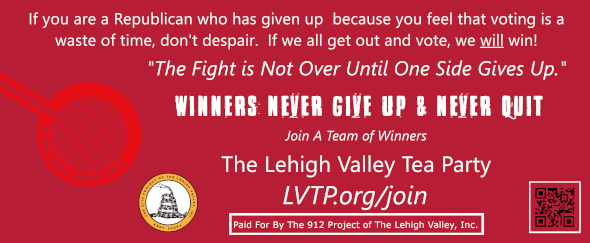 To get your specific list of addresses to place hangers, please watch either of the two videos below.
Please pick up your supply of door hangers at our September 7th meeting at the Fearless Firehouse Ballroom 1221 S Front St Allentown, any time after about 6:30 PM. Then over the next week or two, at your convenience, place your hangers and mark those doors as done.
If you run out of hangers, we will have a few places where you can pick up more. They will be listed in a future email.
This is an important project and your help is very much needed. We need to get like-minded people out to vote. In fact, it is our responsibility because if they sit home, we are guaranteed to lose.
If you have been asking "What Can I do to Save this Country?" this project is for you. It is easy and can be done in your spare time.
5 Minute Video for those comfortable reading addresses from their phone
5 Minute Video for those who want to print addresses from their computer, then mark them as done.
In PA, there are roughly 455 thousand more registered Democrats than Republicans. We will beat them if more of us vote than them!
We Are The Lehigh Valley Tea party. We Will Never Quit….. Never!
(Payment page may take a few seconds to load.)
Important Note: Door Hangers Go On Doors, Never in a Mailbox!